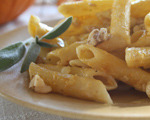 Prep: 10 min
Cook Time: 12 min
Total: 22 min
Serving: 4 Servings
The incorporation of pumpkin puree in this delicious pasta sauce makes a creamy and slightly sweet addition that melds beautifully with the fresh sage, garlic and shallots. Serve with a bottle of American Chardonnay or an American Riesling.
Ingredients
1 pound uncooked penne
2 tablespoons butter
1 medium shallot, minced
4 cloves garlic, minced
6 fresh whole sage leaves
1/4 cup white wine or apple cider
1 cup pure pumpkin puree (no added seasonings)
1 cup chicken broth or vegetable broth
1/2 cup heavy whipping cream
Nutmeg to taste
Salt and freshly ground black pepper
1/2 cup freshly grated Parmesan cheese
1/2 cup toasted walnuts, crushed
Directions
Cook the penne 'al dente' according to package directions, drain and then return to the pot.
In the meantime, place the butter in a large sauté pan over medium heat. Once frothy, add the shallot, stir to coat in the butter and sauté for 3 minutes. Add the garlic and sage leaves to the pan and cook the mixture for 1 minute before pouring in the wine and cooking until the liquid has almost evaporated.
Stir in the chicken broth and bring the mixture to a simmer. Cook for 3 minutes and then remove and discard the sage leaves. Slowly add the pumpkin puree, whisking well to combine, and then add the cream and half of the Parmesan cheese.
Pour the sauce over the hot pasta; add the nutmeg, a few pinches of salt and pepper, the remaining cheese and the nuts, and toss the mixture well to combine. Serve immediately.