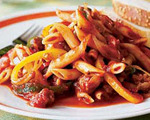 Prep: 10 min
Cook Time: 20 min
Total: 30 min
Serving: 6 Servings
Use either sweet or spicy Italian pork sausage for this flavorful and hearty dish. Serve with a bottle of Chianti Classico or an Italian Pinot Grigio.
Photo originally appeared on womansday.com
Ingredients
1 pound penne pasta
12 ounces fresh sweet or hot Italian pork sausages, removed from casing
1 tablespoon olive oil
3 peppers, thinly sliced
1 medium onion, thinly sliced
2 teaspoons minced garlic
1 can (2-ounces) crushed tomatoes with basil
salt and freshly ground pepper
Directions
Cook the pasta according to package directions, return to pot and cover to keep warm.
In the meantime, place the sausage into a large sauté pan and cook over medium heat until browned. Crumble with a wooden spoon and then transfer to a plate.
Place the olive oil into the pan along with the pepper s and onion. Sauté the mixture for 5 minutes and then add the garlic and cook for an additional 1 minute. Return the sausage to the pan and then add the tomatoes and a few pinches of salt and pepper. Bring the mixture to a boil and then reduce the heat to a simmer; cook for 10 minutes.
Pour the sauce over the hot pasta, toss to combine and then serve immediately.