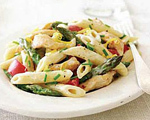 Prep: 10 min
Cook Time: 10 min
Total: 20 min
Serving: 6 Servings
Feel free to use any pasta of your choice for this recipe but penne is strongly recommended as it "holds the sauce" better than other pasta varieties.
Ingredients
1 pound penne rigate (penne with ridges) pasta
1 pound thin asparagus, ends trimmed, spears cut in 1/2-in.-long pieces
12 ounces chicken tenders, cut diagonally in 1/2-in.-wide strips
1/2 teaspoon sea salt
1/2 cup flour
1-1/2 tablespoons olive oil
1 jar (16 oz) Alfredo sauce
1 tablespoon grated lemon peel
3 tablespoons fresh lemon juice
1/4 cup grated Parmesan cheese
1 large tomato, halved, seeded and diced
1/4 cup snipped fresh chives
Freshly ground black pepper, to taste
Finely shredded lemon peel to garnish
Directions
Cook the penne 'al dente' according to package directions, but add the asparagus to the pot during the last 3 minutes of cooking. Drain and place the pasta mixture back into the pot.
In the meantime, sprinkle the chicken on both sides with salt and then lightly coat with flour.
Place a large sauté pan over medium heat and add the oil. When the oil begins to shimmer, add the chicken and cook for 3 minutes, flipping once.
Stir in the Alfredo sauce, lemon peel, juice and cheese and then bring the mixture to a simmer. Cook for 2 minutes and then pour the sauce over the pasta along with the tomato, chives and a few grinds of fresh pepper.
Toss to coat and then serve immediately garnished with some shredded lemon peel.