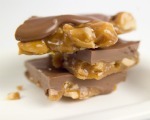 Prep: 1 hr 10 min
Cook Time: 20 min
Total: 1 hr 30 min
Serving: 1 quart
Sweet buttery brown sugar and chocolate candy bars with chopped pecans.
Ingredients
1 cup butter
1-1/4 cups packed brown sugar
6 (1.5 ounce) milk chocolate candy bards
2/3 cup finely chopped pecans
Directions
Mix together the butter and brown sugar in a saucepan. Cook over medium-high heat stirring constantly until it reaches 300 degrees Fahrenheit on a candy thermometer. Pour into a greased 9x13-inch pan.
Arrange the chocolate bars over top, once they are softened, spread them until evenly layered.
Sprinkle the pecans over and lightly press into the chocolate with the back of a spoon. Chill for 1 hour.
Invert onto wax paper and break into pieces.