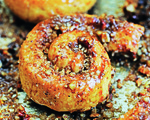 Prep: –
Cook Time: –
Total: –
Serving: Makes 16
Sweet, sticky, and devilishly good -- just make sure that you make enough of these swirls for everyone, as they tend to disappear very fast!
From Homemade: Irresistible recipes for every occasion by Clodagh McKenna, Kyle Books, 2011.
Ingredients
For the dough:
3-1/2 cups all-purpose flour
1/5 cup superfine sugar
1 teaspoon sea salt
3/4 stick chilled unsalted butter, diced
1/4 ounce fresh yeast
2/3 cup milk
2 eggs
For the filling:
1 cup pecan halves
Scant 1/2 cup brown sugar
2 teaspoons ground cinnamon
A little melted butter for brushing
For the topping:
1 cup pecan halves, chopped
1 stick butter, melted
1/4 cup brown sugar
1/2 cup maple syrup
Directions
Put the flour, sugar, and salt in a large bowl and rub in the butter with your fingertips until the mixture resembles bread crumbs.
Activate the yeast by mixing in a sprinkle of superfine sugar using the back of a teaspoon until the yeast becomes liquidy. Whisk the yeast into the milk, followed by the eggs, and then pour the milk mixture into the dry ingredients. Mix well.
Place the dough onto a lightly floured board and knead for 10–15 minutes. Put the dough in a lightly oiled bowl, cover with plastic wrap (or a cloth) and place in a warm, dry place (such as a rack above a stove) for an hour.
Make the filling by putting the pecans, sugar, and cinnamon into a food processor and grinding until the ingredients are finely ground.
Once the dough has been rising for an hour, knead it for a further 5 minutes. Cut the dough into two and roll and stretch each piece on a lightly floured board until it measures about 10 x 14 inches.
Brush some melted butter over the two pieces of dough. Sprinkle half the filling over each rectangle, then use a rolling pin to press it into the dough. Then, tightly roll each rectangle, starting at a long side, in order to create a jelly-roll-like shape. Cut each log into 8 pieces (about 3/4 inch thick) and put the swirls into 2 deep baking sheets.
Make the topping by mixing together the pecans, melted butter, sugar, and syrup. Brush each side of the swirl slices with the mixture. Cover and place in a warm dry spot for a further 30 minutes. Make sure that you leave enough space between each of the swirls to let them rise and expand.
Preheat the oven to 375 degrees F. Once the swirls have risen, bake in the oven for 20 minutes. Let cool before eating.