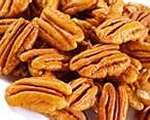 Prep: 4 hr 15 min
Cook Time: 5 min
Total: 4 hr 20 min
Serving: 8
Serve Pecan Salad on a lettuce leaf.
Ingredients
1-1/4 cups crushed pineapple
1/2 cup sugar
1 envelope unflavored gelatin
2 cups whipping cream, whipped
1/2 cup pecans, chopped
1 cup American cheese, grated
Directions
Cook pineapple and sugar for 5 minutes over medium heat.
Soften gelatin in 1/4 cup cold water. Add 3/4 cup boiling water; stir until dissolved. Mix with pineapple. Chill until slightly thickened.
Fold in whipped cream, pecans and cheese. Pour into an 8-inch square pan. Chill until set. Cut in squares and serve on a lettuce leaf.