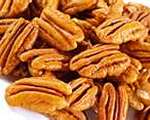 Prep: 5 min
Cook Time: 25 min
Total: 30 min
Serving: 10
An old fashioned classic, Pecan Divinity tastes divine and is perfect for the holidays.
Ingredients
2 1/2 cups sugar
2/3 cup white corn syrup
2 egg whites, beaten stiff
1 tablespoon vanilla
1/4 teaspoon salt
1/2 cup water
1/2 cup pecans, chopped
Directions
Cook sugar, salt, syrup and water to hard crack stage. Pour over beaten egg whites; add vanilla and nuts. Beat well. Drop by teaspoonful onto wax paper.