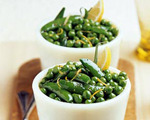 Prep: 5 min
Cook Time: 4 min
Total: 9 min
Serving: 3 Servings
This lovely side dish recipe comprises of shelled sweet peas and whole sugar snap pea pods tossed in a rich and fragrant tarragon, lemon peel and butter sauce.
Photo originally appeared on www.bhg.org
Ingredients
1/4 cup salted water
6 ounces shelled sweet peas
2 ounces whole sugar snap pea pods
1 teaspoon butter
2 teaspoons snipped fresh tarragon
1 teaspoon finely shredded lemon peel
1/4 teaspoon fresh black pepper
Directions
Place the salted water in a small saucepan and bring to a boil. Once boiling, add the peas and the pea pods and cook, covered, for 4 minutes. Drain well and then transfer to a serving bowl.
Add the butter, tarragon, lemon peel and pepper to the bowl and gently toss to coat. Serve immediately.