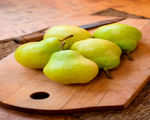 Prep: 5 min
Cook Time: 40 min
Total: 45 min
Serving: 6
This succulent sweet side is an unbeatable mate for tender lamb or slow cooked slices of pork tenderloin. Earthy spices liven the mild flavor of the tender pears and dried cherries add a tart chewy kick. Serve as part of a savory feast or as a surprise dessert with a small scoop of vanilla bean ice cream.
Ingredients
2 ½ pounds firm ripe Anjou or Bartlett pears, halved, cored and cut into ½ inch slices
⅓ cup dried cherries or dried cranberries or raisins
Juice of a small lemon (about 1 ½ tablespoons)
2 tablespoons brown sugar
½ teaspoon cinnamon
¼ teaspoon ground clove
½ teaspoon ground cumin
½ teaspoon ground coriander
¼ teaspoon ground ginger
Pinch salt
Black pepper to taste
Directions
Preheat oven to 375 degrees F.
Combine ingredients in a lightly buttered square 9 inch baking dish, tossing gently to coat.
Bake until pears are fork tender, about 40 minutes. Remove from oven and serve hot or warm.