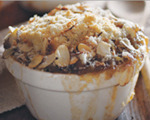 Prep: 20 min
Cook Time: 40 min
Total: 1 hr
Serving:
This recipe featuring fresh pears and apples can be baked in a large dish or individual ramekins.
Ingredients
1-1⁄4 cup all-purpose flour
1 teaspoon salt
5 tablespoons plus 1 teaspoon light brown sugar, divided
3 tablespoon unsalted butter
2 tablespoon slivered toasted almonds
2 Golden Delicious apples, peeled, cored, and cut into 3/4-inch pieces
2 Bosc pears, peeled, cored, and cut into 3/4-inch pieces
2 tablespoons raisins, soaked in hot water for 30 minutes and strained
1 teaspoon ground cinnamon
1 teaspoon ground cloves
Cooking spray
Directions
Preheat oven to 350 degrees F. Combine flour, salt, and 4 tablespoons sugar in a large bowl. Slice butter into 1-inch cubes and add to flour. Blend by hand or with a pastry cutter until mixture resembles coarse bread crumbs. Stir in almonds.
Combine apples, pears, and raisins in a separate large bowl; add remaining sugar, cinnamon, and cloves. Coat a 9-inch square cake pan with cooking spray. Spread fruit in dish and cover with crumble mixture. Bake for 40 minutes or until golden brown.