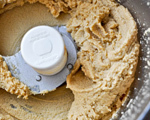 Prep: 10 min
Cook Time: –
Total: 10 min
Serving: Makes 1-1/2 cups
Instead of using traditional tahini for this hummus, try substituting it with peanut butter instead. It gives it a creamier and nuttier flavor. However, make sure to use real peanut butter with no added sugar or oil.
Ingredients
1 15-ounce can chickpeas, drained and rinsed
2 heaping tablespoons of peanut butter
1/4 cup olive oil plus to garnish
1/4 teaspoon sea salt
1/4 teaspoon freshly ground pepper
1/2 teaspoon smoked paprika and some to garnish
Directions
Place the chickpeas into a food processor, process until ground, and then add the peanut butter and blend until combined. With the machine on, slowly pour the olive oil down the processor flute and continue to process until the mixture is thoroughly blended and smooth.
Transfer the hummus to a bowl and stir in the salt, pepper and paprika. Sprinkle the hummus with some additional paprika to garnish and add a drizzle of olive oil. Serve immediately with crackers or pita wedges.