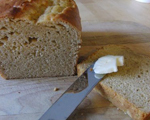 Prep: 20 min
Cook Time: 50 min
Total: 1 hr 10 min
Serving: Makes 1 loaf
For parents this bread is a healthy snack. For kids, it's a healthy snack dream come true.
Ingredients
3/4 cup sugar
1/2 cup smooth peanut butter
1 teaspoon vanilla
2 eggs, beaten
1 1/2 cups milk
1 1/4 cups all-purpose flour
1 cup whole wheat flour
4 teaspoons baking powder
1/2 teaspoon salt
1/4 cup chopped peanuts
1/4 cup chocolate chips
Directions
Preheat oven to 350 degrees. Grease a loaf pan with butter, olive oil or cooking spray. Line the bottom of the pan with wax paper.
With a handheld mixer, cream the sugar, peanut butter and vanilla in a large bowl. Mix in the eggs and milk and beat until smooth.
In another bowl, combine the flours, baking powder and salt with a wire whisk. Add the flour mixture to the peanut butter mixture and beat well.
Pour batter into loaf pan and sprinkle with the peanuts and chocolate chips. Place loaf in center rack of oven and bake until golden brown and toothpick placed in center of bread comes out clean.
Cool bread in pan for at least 10 minutes before serving.