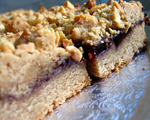 Prep: 1 hr 35 min
Cook Time: 50 min
Total: 2 hr 25 min
Serving: 1, 9-inch pan
Hands down, this dessert is a top ten kid's favorite, and who can blame them when you mix a buttery cookie crumble with creamy peanut butter and jelly!
Ingredients
Cooking spray or melted butter to grease
1/2 cup (1 stick) unsalted butter, room temperature
1/4 cup creamy, smooth natural peanut butter (made with only peanuts and salt)
1/2 cup sugar
Large pinch of salt
1 teaspoon vanilla extract
1-1/4 cups all purpose flour
1/3 cup blackberry jam
Directions
Grease the bottom of a 9-inch springform pan with cooking spray or butter.
In a large bowl, beat the butter and peanut butter for about 3 minutes until mixture is light and fluffy.
Add in the sugar and salt and continue to beat for 2 minutes. Sprinkle in the vanilla and flour and continue to beat until the ingredients are well blended.
Place the dough on a clean countertop and take about a handful of dough and shape into a ball. Put the ball of dough into a bowl and place in the freezer for about an hour, until frozen hard.
With the remaining dough, evenly cover the bottom of the greased pan. Spread the jam on top of the dough, leaving a 1/3-inch border from the edges. Place pan in the refrigerator and remove when ball of dough is frozen.
Preheat the oven to 350 degrees.
Grate the frozen ball of dough over the pan, using the large holes on the grater.
Place the pan in the oven and bake for 50 minutes. Remove from oven and completely cool before cutting into bars.