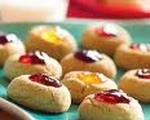 Prep: –
Cook Time: 15 min
Total: 15 min
Serving: Makes 2 dozen cookies
Admit it, peanut butter and jelly is still your favorite sandwich. No matter how adult you are, you will always have a special place in your diet for a deliciously nutty sweet PB&J.
Ingredients
1 cup creamy or crunchy peanut butter
1 cup sugar
1 large egg
1 teaspoon vanilla
1/4 cup jelly, any flavor
Directions
Preheat oven to 350 degrees F.
Beat together peanut butter, sugar, egg, and vanilla in a large bowl until fully combined and a dough has been formed.
Scoop dough out using a teaspoon and, using your palms, roll into 1-inch balls. Arrange 3-inches apart on a lightly greased cookie sheet.
Using the handle of a wooden spoon, make a round depression in the middle of the cookie. Spoon jelly into depressions.
Bake for 15 minutes, or until cookies are lightly browned. Let cookies cool completely on a wire rack. Store in an airtight container.