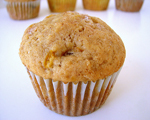 Prep: 15 min
Cook Time: 22 min
Total: 37 min
Serving: 12-18 People
These sweet muffins are perfect as a breakfast treat or an afternoon snack. Fresh strawberries or blueberries can be used instead of peaches.
Ingredients
2 eggs
1/2 cup honey
1/4 cup vegetable oil
1/4 cup butter
1/2 cup sour cream
1/2 cup half-and-half
1/2 teaspoon baking soda
1/2 teaspoon salt
1 teaspoon cinnamon
2 cups flour
1-1/2 cups chopped peaches
Directions
Cream eggs, honey, vegetable oil, butter, sour cream and half-and-half.
Mix in baking soda, salt and cinnamon.
Blend in flour.
Fold in chopped peaches.
Pour batter into prepared muffin tins.
Bake at 400 degrees for 18-22 minutes.