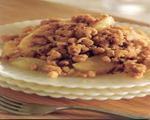 Prep: 40 min
Cook Time: 5 min
Total: 45 min
Serving: 6
Warm, sweet peaches with a crisp oat and toffee crunch blend perfectly to create a delicious dessert. Peach Toffee Crisp is quick & easy to prepare. Place it in the oven just before you sit down for dinner and it will be ready to enjoy at the end of the meal. This is also great with apples instead of peaches; and, kids really enjoy a little bit of the leftovers spooned over their oatmeal at breakfast.
**You can use frozen peaches for this recipe. Just make sure you thaw them first.
Ingredients
5 cups sliced peaches
2/3 cups quick-cooking oats
1/2 cup packed brown sugar
1/2 cup Bisquick
1/4 cup firm margarine or butter
1 teaspoon ground cinnamon
Directions
Cover the bottom of an 8x8x2-inch ungreased baking dish with peaches.
Mix together oats, sugar, Bisquick, toffee, butter, and cinnamon in a bowl. Combine to create a crumbly mixture.
Sprinkle topping over peaches
Bake dessert in a 365 degrees Fahrenheit oven for 35-40 minutes.