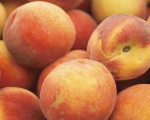 Prep: 8 hr 15 min
Cook Time: –
Total: 8 hr 15 min
Serving: serves 12
A creamy, fruity, jello salad.
Ingredients
1 (6 ounce) package orange flavored gelatin
2 cups boiling water
1 (15 1/4 ounce) can crushed pineapple, undrained
2 cups canned or fresh sliced peached, drained
1 egg, beaten
1/4 cup sugar
1 1/2 tablespoons all-purpose flour
1 1/2 tablespoons butter or margarine, softened
1/2 cup whipping cream, whipped
1/2 cup miniature marshmallows
1/2 cup (2 ounces) shredded Cheddar cheese
Directions
Stir together the gelatin and boiling water until dissolved.
Drain pineapple, reserving juices. Add water to juice to make 1 cup. Mix in 3/4 cup of the juice to the gelatin. Refrigerate until the gelatin has reached the consistency of unbeaten egg whit.
Lightly oil an 8x12 inch pan. Lay the peach slices in the bottom, cover with gelatin. Refrigerate until almost firm.
Mix together egg, sugar, flour, butter and remaining 1/4 cup juice in a small saucepan. Stir constantly over low heat until thickened. Cool.
Mix pineapple, whipped cream, marshmallows and cheese. Add into egg mixture. Cover set gelatin with fruit mixture. Refrigerate overnight.