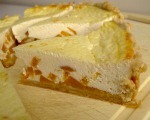 Prep: 20 min
Cook Time: 20 min
Total: 40 min
Serving: 6 servings
A creamy gelatin and peach filled dessert pie.
Ingredients
1 (16 ounce) package frozen peach slices, thawed
1 cup sugar
1 (1 ounce) packet unflavored gelatin
1/8 teaspoon ground nutmeg
3/4 (8 ounce) carton whipped topping, thawed
1 (9 ounce) graham cracker piecrust
Directions
Blend the peaches until smooth. Pour into a saucepan and bring to a boil, stirring non-stop.
Mix together the sugar, gelatin and nutmeg in a bowl and stir into the peaches until dissolved.
Pour the combined mixture into a bowl and freeze for about 20 minutes, or until it mounds.
Use an electric mixer to beat for 5 minutes on high. Fold in the whipped topping and spread in the piecrust.