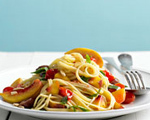 Prep: 10 min
Cook Time: 12 min
Total: 22 min
Serving: 6 Servings
This may sound like an odd combination for pasta but the sweetness of the peaches pairs wonderfully with the grape tomatoes, Kalamata olives and fresh basil in this delicious summer salad.
Ingredients
12 ounces spaghetti
3 cloves garlic, thinly sliced
2 tablespoons olive oil
1 pint grape tomatoes
2 pounds peaches (about 6), pitted and sliced and/or coarsely chopped
1/2 cup pitted Kalamata olives, halved
1/3 cup chopped basil leaves
1/4 teaspoon salt
1/4 teaspoon crushed red pepper
1/8 teaspoon ground black pepper
Toasted slivered almonds to garnish
Directions
Prepare the pasta according to package directions making sure to reserve 1/4 of the cooking liquid prior to draining. Return the pasta to the pot and drizzle with 1 tablespoon of oil; toss to coat.
In the meantime, place the remaining oil into a sauté pan over medium heat and sauté the garlic for 1 minute. Add the tomatoes and cook for 2 minutes before stirring in the peaches and cooking for an additional 4 minutes.
Sprinkle in the olives, basil, salt and pepper and cook the mixture until heated through, then add to the spaghetti and toss to combine.
Garnish the pasta with the toasted almonds and then serve immediately.