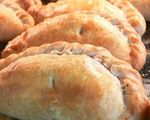 Prep: 15 min
Cook Time: 20 min
Total: 35 min
Serving: 8
Every cuisine has a version of a turnover—a pastry filled with fruit, ground meats, roasted vegetables, or a combination of the three. Fruit filled turnovers are well known desserts but pastry dough filled with savory ingredients make wonderful meals.
Ingredients
1 cup whole wheat pasty flour
1 cup all purpose flour
½ teaspoon salt
4 tablespoons vegetable oil
4 tablespoons cold water
Directions
Sift flours and salt into a large mixing bowl.
Pour in oil and rub it into the flour mixture with your fingers until it resembles coarse meal.
Add water and bring mixture into a smooth dough, adding a bit more water if necessary.
Dough should feel tacky but not slick.
If you add too much water, sprinkle in a bit more flour.
Dump dough out onto a lightly floured surface and knead for about 10 minutes and forming it into a ball.
Place dough in a lightly oiled bowl and cover with plastic wrap or slip it into a lightly oiled ziplock bag and seal.
Set aside to rest for about 30 minutes.
Then add your favorite filling and bake at 375 degrees F. for 20 minutes or until pastry is browned.
Filed Under:
Dinner Recipes, Appetizer Recipes, Side Dish Recipes, Dessert Recipes, Vegetarian Recipes, Family Recipes, Meats, Meats, Meats, Christmas Recipes, Thanksgiving Recipes