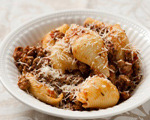 Prep: 10 min
Cook Time: 20 min
Total: 30 min
Serving: 4 Servings
Rich, hearty and delicious, this Italian-inspired pasta dish with veal can be prepared in just 30 minutes. Accompany with a garden salad and a bottle of Zinfandel or a Shiraz.
Ingredients
1 pound pasta
2 tablespoons olive oil
1 medium onion, finely chopped
2 garlic cloves, finely chopped
2 tablespoons fresh rosemary chopped or 1/2 teaspoon dried rosemary, crumbled
1 pound ground veal
1/2 teaspoon salt
1/4 teaspoon pepper
1/3 cup dry white wine
1 can (14.5 ounces) diced tomatoes
1/2 cup chicken broth or water
2 tablespoons unsalted butter, cut into pieces
Directions
Prepare the pasta according to package directions and drain well.
In the meantime, place the olive oil into a sauté pan over medium heat. Once it begins to shimmer, add the onion and garlic and cook for 5 minutes. Stir in the veal, salt and pepper and cook the mixture, stirring frequently, until the meat has browned on all sides.
Pour in the wine and cook the mixture until all of the liquid has evaporated, and then add the diced tomatoes and the chicken broth and bring to a boil. Once boiling, reduce the heat to medium-low and simmer the mixture for 6 minutes. Remove the pan from the heat and add the butter. Stir to combine and then toss with the pasta. Serve immediately topped with Parmesan cheese.