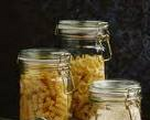 Prep: 15 min
Cook Time: 20 min
Total: 35 min
Serving: 6
Rapini is also known as broccoli rabe. Pasta with Rapini and Ricotta is ready to serve in 20 minutes.
Ingredients
1 1/2 pounds rapini, coarsely chopped
1 pound gemelli pasta
4 anchovy fillets
2 garlic cloves, chopped
1/2 teaspoon red pepper flakes
1, 15 ounce container part skim ricotta cheese
1 cup milk
coarse salt and ground pepper
Directions
In a large pot of boiling salted water, boil rapini 1 minute; with a slotted spoon, transfer to a colander to drain. In same pot of water, cook pasta until al dente, according to package directions. Drain pasta and return to pot.
Meanwhile heat oil in a large skillet over medium heat. Add anchovy fillets, garlic and pepper flakes; cook stirring, until fragrant, 30 to 60 minutes. Add rapini; season with salt and pepper.
Cook, stirring occasionally, until tender for 5 to 6 minutes. Stir in ricotta and milk; cook just until heated through, 3 to 4 minutes.
Add contents of skillet to pasta; season with salt and pepper, and toss to combine. Serve immediately.