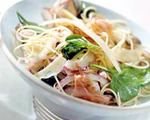 Prep: 10 min
Cook Time: 10 min
Total: 20 min
Serving: 2 Servings
Hot pasta is tossed with fresh mushrooms, baby spinach and freshly grated Parmesan cheese in this delicious Italian-inspired meal. Serve with a White Sancerre or an American Sauvignon Blanc.
Ingredients
4 ounces dried angel hair pasta
1 tablespoon olive oil
1 tablespoon butter
2 cloves garlic, minced
1-1/2 cups sliced fresh mushrooms
1/2 of a medium red onion, thinly sliced
2 ounces thinly sliced prosciutto, cut into 3/4-inch strips
1-1/2 cups loosely packed baby spinach
1/4 cup finely shredded Parmesan cheese
salt and freshly ground black pepper to taste
freshly grated Parmesan cheese to top
Directions
Cook the angel hair pasta according to package directions, drain well and place back into the pot.
In the meantime, place the oil and the butter into a large sauté pan over medium-high heat. Once melted, add the garlic, cook for 30 seconds, and then stir in the mushrooms, onion, and prosciutto and sauté the mixture for 5 minutes, stirring frequently.
Add the pasta, spinach, 1/4 cup Parmesan cheese and a few pinches of salt and pepper to the pan and continue to sauté the mixture for an additional 2 minutes.
Divide the pasta between 2 plates and top with the mushroom mixture. Garnish with some Parmesan cheese and serve immediately.