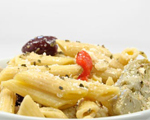 Prep: 10 min
Cook Time: 10 min
Total: 20 min
Serving: 6 Servings
The flavors of the Mediterranean really shine in this simple yet elegant dish. Use the pasta of your choice, but note that penne work exceptionally well in this recipe.
Ingredients
12 ounces penne pasta
2 tablespoons pine nuts, toasted
2 tablespoons extra-virgin olive oil, divided
12 ounces boneless, skinless chicken breasts, trimmed and thinly sliced
Salt & freshly ground pepper to taste
2 small red bell peppers, thinly sliced
2 shallots, minced
2 cloves garlic, minced
1 cup reduced-sodium chicken broth
1/4 cup balsamic vinegar
2 teaspoons chopped fresh rosemary or 1 teaspoon dried
1 cup pitted olives
1 9-ounce package frozen artichoke hearts, thawed, or 1 14-ounce can, rinsed
Parmesan cheese to top
Directions
Cook the pasta according to package directions, drain and return to the pot.
Place 1 tablespoon of oil into a large sauté pan over medium-high heat, add the chicken and sauté for 4 minutes. Sprinkle the chicken with salt and pepper, and transfer to a plate.
Put the other tablespoon of oil into the pan, add the peppers, shallots and garlic, and sauté the mixture for 3 minutes. Transfer to the plate with the chicken and set aside.
Pour the broth and vinegar into the sauté pan and add the rosemary and olives. Bring the mixture to a boil, then add the artichokes and the pasta and cook for 3 minutes.
Place the chicken mixture back into the pan and toss the pasta with a few pinches of salt, pepper and the pine nuts. Serve immediately with Parmesan cheese.