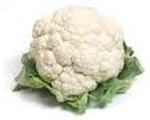 Prep: 45 min
Cook Time: 1 hr 15 min
Total: 2 hr
Serving: 6
Pasta with Cauliflower and Ricotta is a great one dish meal.
Ingredients
1 pound bucatini (short pasta tubes)
2 pounds cauliflower
1 pound ricotta cheese
2 eggs
1 cup Parmesan cheese, grated
salt and pepper
olive oil
Directions
Boil the cauliflower and drain, reserving the cooking water. Gently fry the cauliflower in 1 tablespoon olive oil until lightly brown.
Add 2 tablespoons of cooking water to the ricotta cheese to soften. Mash with a fork and add salt and pepper to taste. Stir into the cauliflower.
Boil pasta in cooking water until al dente.
In a greased 9 by 13 inch baking dish, arrange alternate layers of pasta and cauliflower mixture. Beat the eggs with the grated cheese and pour over top layer. Bake at 400 degrees F for 45 minutes or until a golden crust forms.