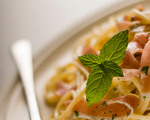 Prep: –
Cook Time: –
Total: –
Serving:
There was no chicken parmigiana or spaghetti & meatballs on my table growing up. For me, the child of Italian immigrants, dinner consisted of lots of vegetables, beans and some form of pasta. My parents are the children of peasant farmers from a small town outside of Naples, Italy, called Cervinara -- and the American concept of Italian food did not exist as part of our native diet.
My grandfather Giuseppe would make this as a quick meal, but he would leave out the prosciutto and add diced tomatoes instead. He would also add a half a cup of the boiled pasta water to the sauce to make it soupy so he could dip his bread! When my mom and aunts miss my grandfather, we make "Nonno Giuseppe's pasta."
Ingredients
1 pound pasta of your choice
1 cup of olive oil
1/2 pound of prosciutto, cut into 1-inch pieces
6 anchovies
2 cloves minced garlic (more if you like)
Salt and fresh ground black pepper
Directions
Cook pasta according to package instructions
While pasta is cooking, pour olive oil into a large pan over medium heat. When oil is hot add prosciutto and cook, stirring occasionally, until prosciutto is slightly brown.
Mash anchovies with back of wooden spoon until they are a paste. Stir into prosciutto mixture and continue to cook, stirring occasionally, for a few minutes
Add minced garlic and cook, stirring, for a few more minutes or until garlic is golden and fragrant.
When pasta is cooked al dente, drain into a colander and then add to sauce. Toss pasta to coat and liberally season with salt and fresh ground back pepper to taste.