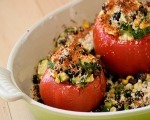 Prep: 10 min
Cook Time: 15 min
Total: 25 min
Serving: Serves 4 people
Pasta-Stuffed, Baked Tomatoes is a side dish you don't see every day. Easy to make, and just as great to eat, this is a nice side dish for just about any grilled chicken dish.
Ingredients
3 ounces of uncooked small pasta
4 large tomatoes
1 cup of fresh basil, loosely packed
1 garlic clove, minced
3 tablespoons low-fat mayonnaise
1 tablespoon milk
1/4 teaspoon fresh ground black pepper
1/2 cup shredded zucchini
1/2 cup fresh mushrooms, finely chopped
2 tablespoons grated Parmesan cheese
Directions
Cook the small pasta according to the package directions (omit the salt). Drain, rinse and set aside.
Cut the tops from each tomato. Scoop out the insides of the tomatoes, keeping only 1/2 cup of the pulp to use later. Chop the pulp and add it to the pasta. To help the tomatoes drain, place paper towels on a platter and put the tomatoes on the platter, cut side down. Allow at least 5 minutes to drain.
Preheat your oven to 350 degrees F. Using a food processor, add the basil and garlic and pulse until finely chopped. Add the mayonnaise, milk and pepper. Pulse until smooth.
In a medium-sized bowl, combine the pasta, zucchini, mushrooms and basil mixture. Toss everything to coat well. Add the tomatoes to a baking dish with the cut side up. Divide the mixture up and carefully stuff the tomatoes until slightly mounded. Sprinkle each tomato evenly with the Parmesan cheese. Bake for about 12-15 minutes, just until heated through and the cheese begins to brown.