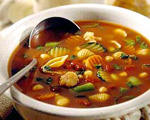 Prep: 10 min
Cook Time: 20 min
Total: 30 min
Serving: 8 servings
Hearty and reminiscent of real, home-style Italian cooking, enjoy this meatless soup with a bottle of Pinot Noir, Chianti or a White Zinfandel.
Ingredients
3 (14-1/2-ounce) cans beef or vegetable broth
1 (15-ounce) can kidney beans, rinsed and drained
1 (15-ounce) can garbanzo beans, rinsed and drained
1 (14-1/2-ounce) can stewed tomatoes
1 (11-1/2-ounce) can vegetable juice
1 (6-ounce) can tomato paste
2 teaspoons sugar
1 teaspoon dried Italian seasoning, crushed
1-1/2 cups loose-pack frozen Italian-blend mixed vegetables
2 cups fresh spinach leaves, cut into strips
1 cup uncooked shell pasta
Finely shredded Parmesan cheese to garnish
Directions
Cook the pasta according to package directions and then drain well.
In the meantime, place the broth, beans, stewed tomatoes, vegetable juice, tomato paste, sugar, and Italian seasoning into a large soup pan and bring to a boil.
Stir in the frozen mixed vegetables and bring the mixture back to a boil. Once boiling, reduce the heat to medium-low and simmer, covered, for 10 minutes.
Add the cooked pasta and the spinach to the mixture and bring the soup back to a simmer. Ladle the Minestrone into bowls and serve garnished with a few sprinkles of Parmesan cheese.