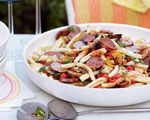 Prep: 10 min
Cook Time: 10 min
Total: 20 min
Serving: 8 servings
Mixing this traditional pasta salad with a Sausage Mixed Grill adds both flavor and color to this hearty side dish recipe.
Ingredients
1 pound gemelli pasta
6 tablespoons extra-virgin olive oil, plus more for drizzling
3 tablespoons freshly squeezed lemon juice
1-1/2 teaspoons finely grated lemon zest
1 tablespoon tomato paste
2 large garlic cloves, very finely chopped
1 large shallot, thinly sliced and separated into rings
1-1/2 teaspoons chopped thyme
Salt and freshly ground black pepper
Sausage Mixed Grill, sausages and vegetables thinly sliced
2 large celery ribs, thinly sliced on the bias
1/4 pound smoked mozzarella, cut into thin strips v
1 cup chopped basil
Directions
Cook the pasta 'al dente' according to package directions, drain (reserving 1/4 cup of the pasta water), and then transfer to a large salad bowl. Drizzle the cooked pasta with some olive oil, toss to combine and then set aside to cool.
Place the lemon juice, lemon zest, tomato paste, garlic, shallot, thyme, olive oil and the reserved pasta water in a bowl and whisk vigorously to blend. Sprinkle with a few pinches of salt and pepper and then mix to combine.
Place the sausages, peppers, radicchio, celery and mozzarella into the bowl with the pasta and then add the dressing. Toss gently to coat, season to taste with additional salt and pepper and then serve sprinkled with the chopped basil.