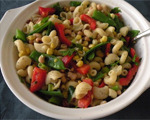 Prep: –
Cook Time: –
Total: –
Serving: 6
Here's an appealing cool salad that combines the familiar flavors of cold pasta, black-eyed peas and fresh corn, embellished with peppers and fresh herbs. This is great pasta salad for everyday meals or company fare for summer.
Recipe and photo by Nava Atlas of VegKitchen.
Ingredients
8 ounces pasta (any short, chunky shape)
15- to 16-ounce can black-eyed peas, drained and rinsed
2 cups cooked corn kernels
1 cup or so snow peas, trimmed, halved crosswise, and briefly steamed or 2 large celery stalks, diced
1/2 medium red bell pepper, cut into narrow strips
2 scallions, thinly sliced
1/2 cup vinaigrette or more, to taste
1/4 to 1/2 cup finely chopped fresh parsley
Salt and freshly ground pepper, to taste
Halved cherry tomatoes (optional)
Halved oil-cured black olives (optional)
Chopped fresh dill and/or oregano leaves as desired (optional)
Directions
Cook the pasta in plenty of rapidly simmering water until al dente. Drain and rinse under cool water, then drain well again.
Combine the cooked pasta with the remaining ingredients in a serving bowl, and toss together. Add the dressing and toss again. Cover and refrigerate until needed, or serve at once.