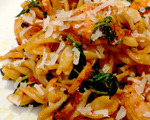 Prep: 10 min
Cook Time: 30 min
Total: 40 min
Serving: Serves 6-8
Succulent pieces of roasted shrimp are served with a flavorful Spanish-inspired sauce made with tomatoes, garlic, almonds, hazelnut and pimento.
Ingredients
3 tomatoes, halved
10 cloves garlic, peeled
2 slices bread, crusty
1/2 cup almonds, whole, with skin on
1/2 cup hazelnuts (or pine nuts)
1 pimiento (or roasted red pepper)
1/2 cup red wine vinegar
3/4 cup olive oil
1 teaspoon paprika
2 teaspoons sea salt
3 tablespoons olive oil
12 medium-sized (21-30 count) shrimp, peeled and de-veined
1 handful arugula, roughly chopped
1 pound fusilli pasta
Parmesan cheese to garnish
Directions
Preheat your oven to 450 degrees.
Place the tomatoes, garlic, bread, almonds and hazelnuts on a baking sheet and roast for 15 minutes. Carefully transfer the hot ingredients to a food processor and pulse until finely chopped. Add the pimentos, vinegar, oil, paprika, and salt to the processor, and continue to blend the mixture until combined.
Place the shrimp into a large bowl and toss with half of the prepared sauce to coat. Transfer the shrimp to a baking sheet and then place in the oven for 15 minutes.
In the meantime, cook the pasta according to package directions, drain and then return to the pot. Add the shrimp, arugula and remaining sauce and toss the mixture to combine. Serve immediately topped with freshly grated Parmesan cheese.