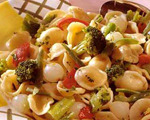 Prep: 5 min
Cook Time: 15 min
Total: 20 min
Serving: 4 Servings
Use the frozen mixed vegetables of your choice for this classic pasta dish with clean and simple flavors. Serve with a bottle of white Pinot Grigio.
Photo originally appeared on bhg.com
Ingredients
1 cup packaged dried orecchiette pasta
1-1/2 cups loose-pack frozen mixed vegetables
3 tablespoons butter
1 tablespoon snipped parsley
1 clove garlic, minced
1 teaspoon finely shredded lemon peel
1/2 teaspoon dried basil, crushed
sea salt and freshly ground pepper
Directions
Cook the pasta in accordance with package directions, making sure to add the frozen vegetables during the last 5 minutes of cooking.
In the meantime, place the butter into a sauté pan over medium heat. Once melted, add the parsley, garlic, lemon peel, basil, and a few pinches of salt and pepper, and sauté for 1-1/2 minutes.
Transfer the parsley mixture to the hot pasta, toss well to combine and then serve immediately.