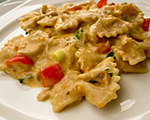 Prep: 10 min
Cook Time: 10 min
Total: 20 min
Serving: 4 Servings
By the time the pasta is cooked, the vegetables and the cream sauce will be ready. A perfect weeknight dinner in a flash.
Ingredients
8 ounces bow-tie pasta
1 medium onion, halved lengthwise and thinly sliced
2 cloves garlic, minced
1 tablespoon olive oil
1-1/4 pounds asparagus, trimmed and cut into 2-inch pieces ( 2 cups)
1 medium zucchini, halved lengthwise and sliced (about 2 cups)
1/2 teaspoon salt
1/4 teaspoon black pepper
1 cup whipping cream
4 Roma tomatoes, seeded and chopped
Directions
Cook the pasta according to the directions on the package, drain and keep warm.
In the meantime, place the olive oil in a large sauté pan over medium heat, and sauté the onion and garlic for 3 minutes.
Stir in the asparagus, zucchini, salt, and pepper and cook for an additional 3 minutes, then transfer the vegetables to a bowl and keep warm.
Pour the cream into the sauté pan and boil for 4 minutes over high heat.
Add the vegetables to the pot with the pasta and then pour over the cream sauce. Add the tomato and toss the mixture until combined. Serve immediately.