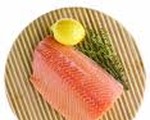 Prep: 25 min
Cook Time: 35 min
Total: 1 hr
Serving: 6
Elegant and easy to make, Party Salmon Crepes are sure to be a hit.
Ingredients
1 cup pancake mix
3 1/2 cups milk
butter, melted
1 egg, slightly beaten
1/4 cup onion, minced
1/2 cup celery, chopped
1/4 cup flour
1/2 teaspoon salt
2/3 cup Parmesan cheese, grated
2 cups salmon
1, 8 ounce can peas, drained
Directions
Combine pancake mix with 1 1/4 cups milk, 1 tablespoon butter and egg in bowl. Stir lightly until just mixed. Pour 1/3 cup batter onto hot, lightly buttered griddle. Bake until set. Turn to brown other side.
Saute onion and celery in 1/4 cup butter in skillet until tender. Blend in flour and salt to make smooth paste. Add 2 1/4 cups milk gradually, stirring constantly. Cook until thick, stirring constantly. Remove from heat.
Add cheese, stirring until melted. Set aside 1 1/3 cups sauce. Add salmon and peas to sauce in pan, heating and stirring until hot and blended. Spread pancakes with salmon mixture and roll up.
Place in 9 by 11 inch baking dish. Bake at 350 degrees F for 15 to 20 minutes. Reheat reserved sauce to pour over crepes.