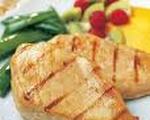 Prep: 4 hr 35 min
Cook Time: 2 hr 25 min
Total: 7 hr
Serving: 20
Let's Party! Party Chicken Salad serves about 20 hungry party animals.
Ingredients
12 chicken breasts
1 tablespoon salt
3 celery stalks with tops, cut in large chunks
2 bay leaves
1 large onion, peeled and quartered
Dressing: 1 cup vegetable oil
1/3 cup tarragon vinegar
1 tablespoon paprika
3 green onions, thinly sliced
6 cups celery, thinly sliced
6 hard cooked eggs, chopped
1 1/2 cups mayonaise
1 cup sour cream
1 1/2 cups almonds, slivered and toasted
salt and pepper to taste
Directions
Place chicken in a large pot. Add salt, celery, onion and bay leafs. Add water to cover. Heat to boiling. Cover, reduce heat and simmer until tender. Cool in stock. Remove skin and bones. Chill chicken.
Shred chicken. Mix dressing ingredients together and add to shredded chicken. Combine thoroughly. Add salt and pepper to taste.