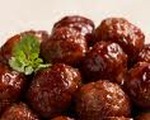 Prep: 20 min
Cook Time: 25 min
Total: 45 min
Serving: 10
Party Beef Balls are flavored with Roquefort cheese and served with barbecue sauce.
Ingredients
1/4 pound Roquefort cheese
1/4 cup mayonnaise
2 tablespoons Worcestershire sauce
1 teaspoon prepared mustard
2 cups corn flakes, crushed
1/2 cup milk
1 egg, slightly beaten
1 pound ground beef
1-1/2 teaspoons salt
1/8 teaspoon pepper
1/8 teaspoon red pepper
barbecue sauce
Directions
Crumble cheese in a bowl. Blend in mayonnaise, Worcestershire sauce and mustard. Add remaining ingredients except barbecue sauce to Roquefort mixture; mix well.
Shape into 1-inch balls. Broil or pan fry until browned. Serve hot on toothpicks with heated barbecue sauce in a dip bowl.