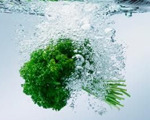 Prep: 5 min
Cook Time: 3 min
Total: 8 min
Serving: 1 cup
Fresh parsley is blanched, combined with olive oil and then strained though a fine mesh sieve to create this flavorful and aromatic blend.
Ingredients
1 cup olive oil
1 bunch of fresh parsley
Directions
Bring a medium saucepan of water to a boil. Once boiling, add the parsley, cook for 3 seconds and then transfer to an ice water bath. Drain the blanched parsley and place on a clean towel to dry.
Put the parsley and the olive oil into a blender and process for about 40 seconds until combined. Strain the mixture through a fine sieve and place into a bottle. Store the infused oil, tightly capped, in a cool, dry area until ready to use.