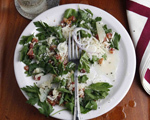 Prep: 10 min
Cook Time: 12 min
Total: 22 min
Serving: 4 Servings
Parsley isn't just used as a garnish. Enjoy its fresh and earthy taste in this salad made with salty pancetta and freshly squeezed lemon.
Ingredients
8 ounces pancetta, cut into 1/4″ cubes
6 cups loosely packed flat-leaf parsley leavesv
2 lemons, peeled and segmented
1 cup freshly grated Parmesan, plus more to taste
1/4 red onion, thinly shaved
Sea salt and freshly ground black pepper
Directions
Place the pancetta into a medium-sized skillet over medium heat and cook for 12 minutes until crisp.
In the meantime, divide the parsley between 4 salad plates and then top with the lemon segments, Parmesan and red onion. Sprinkle the salad with a few pinches of salt and pepper and then add the pancetta cubes.
Drizzle each serving with the rendered fat from the pancetta and then serve immediately.