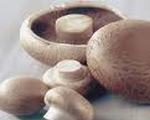 Prep: 15 min
Cook Time: 20 min
Total: 35 min
Serving: 2-4
Parmesan Stuffed Mushrooms are filled with chopped red pepper and seasoned with thyme.
Ingredients
6 to 8 large mushrooms
1/2 cup onions, finely chopped
1/4 cup red pepper, finely chopped
1/4 cup butter
2 slices soft bread, diced
1/8 teaspoon each salt, ground turmeric and white pepper
1/4 teaspoon ground thyme
6 teaspoons Parmesan cheese, grated
Directions
Remove stems from mushrooms; gently hollow out mushroom caps with spoon. Chop stems. Saute mushroom stems, onions and pepper in butter in a skillet. Add diced bread and seasonings; stir well.
Stuff mushroom caps with bread mixture. Sprinkle 1 teaspoon Parmesan cheese on each stuffed mushroom. Place on buttered pan. Bake at 350 degrees F for 15 to 20 minutes. Serve hot.