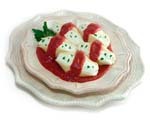 Prep: –
Cook Time: 40 min
Total: 40 min
Serving: 6-8
This delicious vegetarian casserole recipe for Parmesan shells with sundried tomatoes and spinach is a light pasta dish perfect for a busy weeknight dinner. You can even make the casserole up to a day in advance and just pop it in the oven when you need a quick meal.
Ingredients
8-ounces medium pasta shells
2 tablespoons extra-virgin olive oil
1 small onion, finely chopped
8-ounce jar sundried tomatoes, julienne cut
3 medium garlic cloves, finely chopped (about 2 teaspoons)
1/4 teaspoon red pepper flakes
1/4 teaspoon salt, plus more to taste
1 9-ounce package baby spinach, coarsely chopped
6 ounces packaged or fresh mozzarella cheese, cut into 1/2-inch pieces (about 1 cup)
3 ounces freshly grated Parmesan cheese (about 1 cup)
Directions
Preheat the oven to 375 degrees F.
Bring a pot of salted water to a boil over high heat. Add the shells and cook until the pasta is still firm and slightly undercooked, about 6 minutes. (The pasta will continue to cook in the casserole.) Drain and set aside.
In a large skillet, heat oil over medium heat until hot. Cook the onion until softened, about 3 minutes. Add garlic and cook until fragrant, approximately 1 minute. Add the sundried tomatoes and the red pepper flakes to the pan. Mix to combine. Cool slightly. Season to taste with the salt.
In a large bowl, toss together the sauce, shells, uncooked spinach, mozzarella, and 1-ounce of the Parmesan cheese. Adjust seasonings to taste. Transfer to a 3-quart casserole dish and sprinkle the remaining Parmesan cheese on top.
Bake until the shells are cooked through and all of the liquid is absorbed, about 30 minutes. Run the casserole under a hot broiler for 1- to 2-minutes for a crispy top.
Note: Casserole may be covered and refrigerated for up to 1 day before baking.