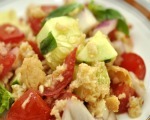 Prep: 10 min
Cook Time: 15 min
Total: 25 min
Serving: Serves 8 people
Originally created to use up leftovers, Panzanella (Bread Salad) is a delicious salad that is almost a meal.
Ingredients
5 cups of 1-inch whole wheat bread cubes
1/2 cup of extra virgin olive oil
1/4 cup of red wine vinegar
1/4 cup of lemon juice
1/4 cup of parsley, minced
1/2 teaspoon salt
6 large, ripe tomatoes cut into wedges
1 large red onion, diced
1/2 cup of oil-cured olives, pitted and chopped
1/2 cup of fresh basil, chopped
1/2 cup of shaved parmesan cheese
Directions
Preheat the oven to 350 degrees. Slightly toast the bread on a cookie sheet for about 15 minutes, stirring occasionally.
In a large bowl, whisk together the olive oil, vinegar, lemon juice, parsley and salt. Fold in the bread, tomatoes, onion, olives and basil.
Toss the salad mixture together with the parmesan cheese.