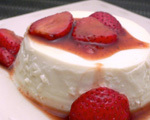 Prep: 4 hr 10 min
Cook Time: 5 min
Total: 4 hr 15 min
Serving: 6 Servings
Panna Cotta is an Italian dessert that is simple to prepare and delicious to eat. Enjoy it smothered with sliced strawberries that have been marinated in balsamic vinegar.
Ingredients
1 pint ripe strawberries, hulled and quartered or sliced
3 tablespoon packed light brown sugar
2 tablespoon high-quality balsamic vinegar
1- 1/2 cups heavy cream
1/2 cup packed light brown sugar
1 envelope (1/4 ounce) unflavored gelatin
2 cups buttermilk
Directions
Place the strawberries, 3 tablespoons of sugar and balsamic vinegar into a glass bowl and stir to combine.
Cover the bowl and place in the refrigerator for 2 hours, or preferably overnight, to allow flavors to infuse.
Put the cream in a saucepan with the 1/2 cup of sugar and place over medium heat until hot.
In the meantime, place the gelatin in 2 tablespoons of cold water and let sit for 3 minutes until soft.
Pour the gelatin mixture into the hot cream mixture whisking to combine, and then pour the mixture into 6 dessert cups. Refrigerate for 4 hours, or overnight, and then serve topped with the balsamic strawberries.