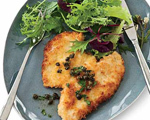 Prep: 15 min
Cook Time: 8 min
Total: 23 min
Serving: 4 Servings
Schnitzel is a traditional Austrian dish that consists of a thinly pounded piece of meat that is coated in breadcrumbs and then fried until golden brown. Serve this chicken version, encrusted is panko breadcrumbs, with a mixed green salad.
Ingredients
1 cup flour
3 eggs, beaten
2 cups panko
4 skinless, boneless chicken breast halves, about 6 ounces each butterflied and pounded 1/4-inch-thick
Salt and freshly ground pepper
1/2 cup canola oil
6 tablespoons butter
2 teaspoons capers
2 tablespoons fresh lemon juice
1 tablespoon chopped parsley
Directions
Place the flour, eggs and panko breadcrumbs into 3 separate shallow bowls. Sprinkle the chicken breasts halves on both sides with salt and pepper and then dredge in the flour, dip in the beaten eggs and then dredge in the panko.
Place the oil into a large sauté pan over medium-high heat. Once hot, add the coated chicken breasts and cook in batches for 4 minutes, adding more oil as necessary. Drain the chicken on paper towels and then sprinkle with some salt and pepper.
In the meantime, place the butter in a small saucepan and cook over medium-high heat until brown; about 4 minutes. Add the capers, lemon juice and parsley to the cooked butter and stir well to blend. Spoon the butter mixture over the cooked schnitzels and serve immediately.