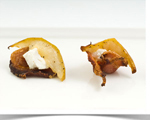 Prep: 5 min
Cook Time: 12 min
Total: 17 min
Serving: 10 slices
Instead of using crumbled bacon to top your next salad, try these crispy pieces of pancetta, or Italian salt cured pork, and enjoy sprinkled over risotto, creamy alfredo dishes and more.
Ingredients
1 package sliced Pancetta, or 10 slices fresh sliced Pancetta, sliced thin
Directions
Preheat the oven to 400 degrees.
Place the slices on a baking sheet, but do not overlap.
Bake for 12 minutes, flipping the pancetta every 4 minutes until crispy.
Remove from oven, coarsely chop and sprinkle on the dish of your choice or top each slice with a dollop of goat cheese and serve as an appetizer.