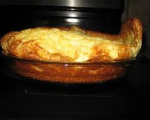 Prep: 10 min
Cook Time: 25 min
Total: 35 min
Serving: 6 servings
Kids will love this big puffy pancake, packed full of ham and cheese for a hearty breakfast.
Ingredients
4 eggs
1 cup flour
1 cup skim milk
2 tablespoons margarine, melted
Vegetable oil spray
1 (8 ounce) slice smoked turkey or ham, cut into 1/2-inch cubes (about 2 cups)
2 ounces Monterey jack cheese, cut into 1/2-inch cubes (about 1/2 cup)
Directions
Preheat the oven to 425 degrees Fahrenheit. Coat a 10-inch round casserole dish with the cooking spray.
Add the melted margarine to the prepared casserole dish.
Combine the eggs, flour, and milk and beat until well mixed.
Pour over the melted margarine and top with the meat and cheese.
Bake until puffy and golden, about 25 minutes. To serve, cut into wedges.