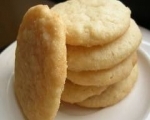 Prep: 10 min
Cook Time: 10 min
Total: 20 min
Serving: varies
If your back to school crowd craves a sugary treat, answer their calls with these easy pancake mix sugar cookies.
Ingredients
3 cups powdered pancake mix
1/2 cup sugar
1/2 cup brown sugar
1 egg
1/3 cup water
2 tsp. vanilla or almond extract
Directions
In a large mixing bowl, combine all ingredients.
Drop on cookie dough onto a baking sheet lined with parchment paper.
Bake at 375°F for 8 minutes or until edges are slightly browned.
Remove from oven and flatten cookies with spatula.
Return to oven and bake for an additional 2 minutes or until the edges are slightly golden.
Remove from oven and let cool.