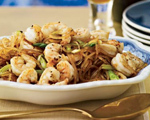 Prep: 10 min
Cook Time: 10 min
Total: 20 min
Serving: 4 Servings
Mung bean noodles, also known as Chinese vermicelli, cellophane noodles or bean thread noodles are a transparent Asian noodle made from mung bean starch. Try them tossed with succulent pieces of sautéed shrimp in this simple recipe.
Ingredients
6 ounces dried mung bean noodles or vermicelli
1 pound medium shrimp, shelled and deveined
Salt and freshly ground white pepper
1 teaspoon ground Sichuan peppercorns
3 tablespoons vegetable oil
4 large scallions, thinly sliced
2 tablespoons finely grated fresh ginger
1/3 cup soy sauce or tamari
3 tablespoons Chinese black vinegar or balsamic vinegar
1-1/2 teaspoons chile oil
Directions
Prepare the mung bean noodles according to package directions.
In the meantime, sprinkle the shrimp with salt, pepper and 1/2 teaspoon of the peppercorns. Place 1 tablespoon of the oil into a large sauté pan over medium-high heat and add the shrimp once the oil becomes very hot.
Sauté the shrimp for 3 minutes, turning once until no longer pink, transfer to a place and set aside.
Place the remaining oil into the pan. Once the oil begins to shimmer, add the scallions and ginger and sauté for 1 minute, then add the mung bean noodles, soy sauce, vinegar, chile oil and the remaining peppercorns and sauté the mixture for 1-1/2 minutes. Season the mixture with additional salt and pepper and then serve immediately.