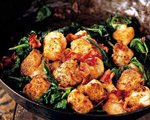 Prep: 5 min
Cook Time: 10 min
Total: 15 min
Serving: 4 Servings
Delicate scallops are coated with Cajun spices and then tossed in a spinach salad along with crisp pieces of bacon.
Ingredients
1 pound fresh sea scallops
2 tablespoons all-purpose flour
2 teaspoons Cajun seasoning
1 tablespoon cooking oil
1 10-ounce package prewashed spinach
1 tablespoon water
2 tablespoons balsamic vinegar
1/4 cup cooked bacon pieces
Directions
Rinse the scallops and pat dry with a paper towel.
Place the flour and the Cajun seasoning into a large plastic bag and then add the scallops. Flip the bag over many times to thoroughly coat the scallops with the seasonings.
Place a large sauté pan over medium heat and add the oil. Cook the scallops for 6 minutes, turning once, and then remove from the pan.
Place the spinach into the pan and cook until wilted; about 2 minutes. Pour in the vinegar and toss to coat.
Transfer the scallops back to the pan, sprinkle with the bacon and cook for 1 minute. Serve immediately.