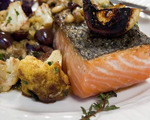 Prep: 10 min
Cook Time: 15 min
Total: 25 min
Serving: 2 Servings
Thick and buttery fillets of salmon are pan seared and then topped with a flavorful sautéed cauliflower, garlic and olive mixture in this healthy and delicious dinner dish.
Ingredients
4 tablespoons extra-virgin olive oil, divided
1 (6-to-7-ounce) bunch cauliflower
2 large garlic cloves, chopped
1/3 cup halved and pitted Kalamata olives
3 teaspoons finely slivered organic orange peel, divided
2 tablespoons pine nuts
2 tablespoons chopped parsley
1 tablespoon cilantro
juice from one lemon
2 tablespoons soy sauce
2 (7 to 8-ounce) salmon fillets with skin (each about 1/2 to 3/4-inch thick)
Directions
Place 1 tablespoon of the olive oil in a large sauté pan over medium-high heat. Once it begins to shimmer, add the cauliflower and sauté for 5 minutes.
Add the garlic to the pan and cook for 1 minute, then add then pine nuts and continue to sauté the mixture until the nuts turn golden brown.
Stir in the olives and 2 teaspoons of the orange peel, and then add the soy sauce and the lemon juice, stirring the mixture well. Sprinkle in the parsley and cilantro and then drizzle the mixture with 1 tablespoon of olive oil.
In the meantime, place the remaining oil into a large skillet over medium-high heat. Once hot, sprinkle the fish with salt and pepper and place, skin-side down, in the pan for 3 minutes. Flip the fish and cook for an additional 3 minutes. Serve the cauliflower mixture topped on the fish, and garnish with the remaining slivered orange peel.