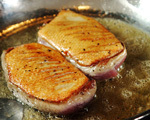 Prep: 2 min
Cook Time: 6 min
Total: 8 min
Serving: 6 Servings
If you are bored with all the common proteins like chicken, pork and beef, then try these pan-seared duck breasts cooked to rare or medium-rare doneness.
Ingredients
6 boneless, skinless duck breast halves
3 tablespoons fruit-flavored vinegar
2 tablespoons olive oil
2 tablespoons honey
2 tablespoons minced shallots
1 tablespoon minced garlic
1/2 teaspoon oregano
1/2 teaspoon dried sage
1/2 teaspoon dried thyme
1/2 teaspoon salt
1/2 teaspoon freshly ground black pepper
14 teaspoon ground allspice
Extra olive oil
Directions
Place the vinegar, 2 tablespoons olive oil, honey, shallots, garlic, oregano, sage, thyme, salt, pepper and allspice into a large bowl and whisk to combine.
Add the duck breasts to the bowl and then cover and place in the refrigerator for 2 to up to 12 hours to marinate.
Remove the duck breasts from the marinade, pat dry and then brush both sides with some olive oil.
Put some olive oil into a large skillet and place over medium-high heat. Once oil begins to shimmer, add the duck breasts and cook each side for 3 minutes. Serve immediately.